Сontent:
The appearance of an office or home is largely determined by its image—its interior design and furniture. The office chair is an important element. Each subject confirms success and potential. The comfort and ergonomics of an office chair depend on the quality of the design and specialized accessories that the manufacturer has installed. The right choice of hard wheels vs. soft wheels is the key to fruitful work and psychological comfort in a home office environment. Each of these options has its advantages and disadvantages. It all depends on you.
Hard Casters
Manufacturers used various materials for the production of furniture elements. In the case of hard casters, the traditional ones are metal (steel or aluminum). Some companies use zinc, cast iron, and alloys. There are numerous options for plastic (reinforced) wheels with lightweight construction. Acrylic fittings are often found.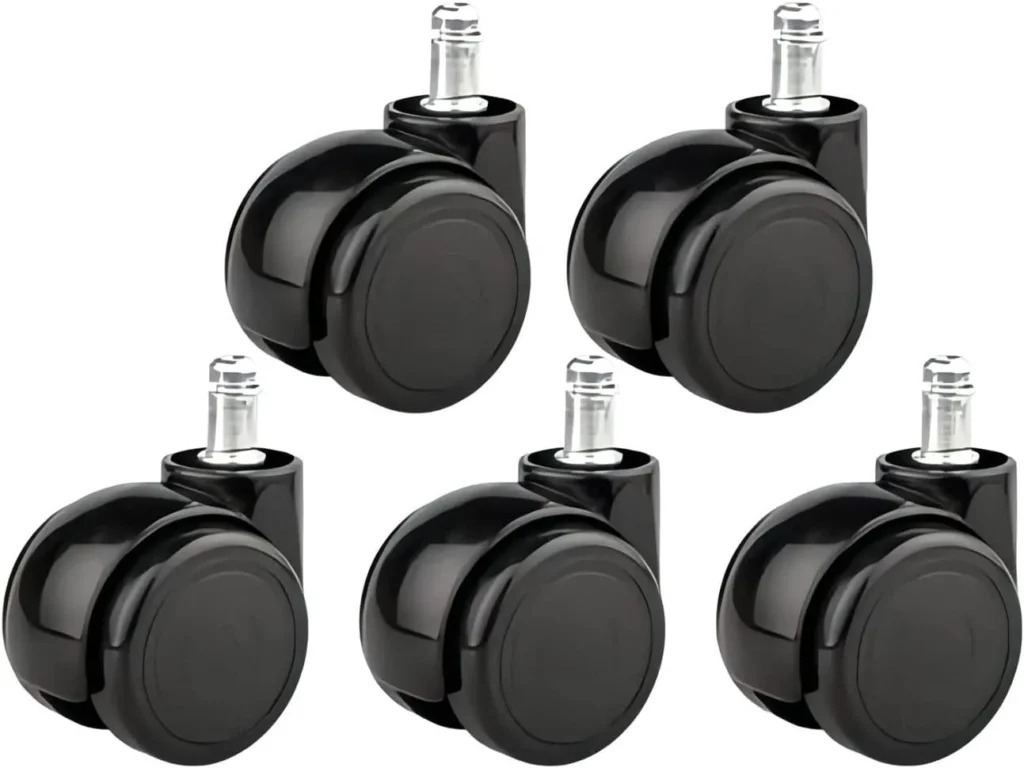 Pros
Hardcasters have the following benefits:
Strength. They withstand significant loads due to the use of a harder material.

Durability. Metal elements and parts made of durable plastic ensure a long service life.

Better mobility. Increased load capacity and the ability to move freely on uneven surfaces.

Cost. The most budget-friendly and economical option is plastic.

Resistance to water, salts, and ammonia.

Retains characteristics at temperatures ranging from -40 ° C to +60 °C.

Easy to clean, do not get dirty over time.
Cons
This type of roller has disadvantages as well:
Unpleasant sounds. It refers more to metal parts. Moving around, the chair can make unwanted noise. The load during turns, as well as when a person sits or stands, causes creaking or cracking over time. It is especially typical for rooms with tile or wooden floors.

Sliding. When moving on linoleum or hardwood floors, wheels cannot scroll but slide on the surface.

Surface damage. Plastic hard casters with regular use often leave scratches and broken parts—rails along the most "rolled" route.
Soft Casters
In the classic version, this type of casters is made of rubber and polyurethane. This technology makes the running of the office chair softer and quieter. Hardcasters lose with this indicator. This is the main difference.
If there is carpet in the room, soft casters make the movement process almost invisible and silent. The noise level is almost nonexistent with such a floor covering.
It will be easier to choose which wheels are suitable for a particular situation if you take into account the operating conditions and user wishes. The main factors are the type of floor and the coating material. The criterion of "load capacity" is important, but not so important since modern rollers and office chairs are designed for use by an adult.
In an office, a private house, or a company, any process requires concentration, so pay attention to reducing noise when moving a chair. The cost of a piece of furniture determines the costs of the design and furnishing of the office.
Employees with a high body weight are recommended to use furniture with heavy metal wheels. This is additional support and confidence in the design when you can't be afraid to make an extra movement or turn.
Those who want to work in maximum silence prefer rubberized rollers. I would like a greater margin of safety, but in general, they perform their task perfectly.
Despite the recommendations of furniture store consultants and office space designers, the final decision is made directly by the user, taking into account his personal preferences. The main thing is to decide on the wishes and requests for the furniture element, and then it will be easier to decide on hard casters vs. soft casters.
Pros
Soft casters are a popular solution. Office employees prefer chairs with such fittings because they appreciate their comfort and quiet operation. You can focus on your work and not distract your colleagues with extraneous sounds. In such furniture, a cushioning effect is noted. Soft casters help maintain performance. A person sitting on such a chair feels comfortable because the wheels have a cushioning effect. There is no discomfort. When moving on a chair, the pressure on the feet, legs, and back decreases.
The ergonomic chair with soft casters allows you to minimize the discomfort from a long sitting position. The main thing is to support posture, because the wrong position of the back is the cause of fatigue and a bad mood.
Soft casters have an undeniable advantage: low noise levels. Office furniture with hard casters cannot boast of such characteristics. Wheels with a solid base moving on laminate or tile often make noise. This problem does not apply to soft casters. The office chair is moved silently, without attracting additional attention.
This is the choice of users if they appreciate silence and are used to working without the wheels of office furniture creaking and grinding. The chairs in the room should help people perform their duties and not interfere with the workflow.
Cons
The main disadvantages that users note are:
There is a trace on the parquet, linoleum, and tile.

Limited service life compared to hard casters.

Over time, the appearance loses its attractiveness, the color changes, the wheels look dirty, and they are difficult to wash.

Hard vs. Soft Tread Casters — Factors to Consider When Choosing
Wheels are key elements of various models of office chairs and other interior items. It is necessary to choose carpet casters vs. hard floor casters correctly so that they have the necessary parameters, and for this, numerous factors are taken into account. The longevity and attractiveness of the furniture are both dependent on the right choice. Hard vs. soft casters have advantages and disadvantages, as well as different operating characteristics. Each client has his own habits and characteristics, on the basis of which he makes a decision.
Surface Material
A solid or rigid rollerblade is an ideal option for a room with wooden or tiled floors. Hard casters are best suited for use on hard surfaces.
Taking into account the design and coating features of soft casters, this type is optimal for areas with carpet. This type of hardware protects the floor material from scratches and prolongs the service life of the safe casters.
Weight Capacity Requirements
Furniture fittings and wheels must withstand not only the weight of the structure itself but also external influences. When calculating the wheels for an armchair or chair, the average mass of a person should be taken into account.
The load capacity parameter determines the maximum load that can affect an individual wheel. This is especially true for armchairs or chairs, as they are often used by people with a large body. Without taking into account this factor, the wheels quickly fail. The operational reliability of the product depends on this parameter, as well as its service life. Those who need reliability and load capacity should pay attention to choosing hard casters.
Lightness, ease of movement, and a sufficient level of cushioning will provide soft casters. This type of fitting does not damage the floor covering, but has average load-carrying characteristics.
If the user has no special requests, you can choose either hard or soft casters. The main criteria that are taken into account when selecting a piece of furniture are the flooring material and the load capacity required in a particular case.
STEALTHO Chair Wheels — Best Universal Solution
Thanks to roller structures in everyday life and office premises, it has become much more convenient to use not only storage systems, but also furniture. The ease of moving objects makes it easy to change the situation in the space without causing damage to the floor coverings and, if necessary, modify the interior. Stealtho is an expert on this topic. Designing and building a mold allows you to create the best option possible, ensuring that every customer is satisfied with our work.
The rollers are an important element. Manufacturers offer several versions of this type of part. Each type of wheel has its own advantages. It is important to choose the appropriate option. Hard casters vs. soft casters—the choice is yours, but in order to ensure the comfort of using the chair and not spoil the flooring, you need to take into account the features of their application. Purchasing wheels in Stealtho will save you time when looking for a suitable model. This is the best solution, so you will win in any case.