Сontent:
What This Article Is About
Workers in an office usually face the issue of using their chairs for a long time. They start looking for special carpets or mats to protect their floor from any damage it may cause. Plastic wheels may easily spoil wooden flooring. In such a situation, chair mats might be a popular solution.
Floor mats have their disadvantages, too – they may wear out fast and become a greater problem for your flooring. Their low quality and poor design make them a terrible disaster for staff. Choosing another mat or finding an appropriate alternative is required. Among available options, people often pay attention to standing desks or new wheels.
In this article, we'll look at all possible products to save your floor without purchasing a mat.
The Main Problems of Using a Chair with Regular Wheels
Plastic wheels can't be reliable – the problem is that they are often broken and need replacement. They can't operate under heavy loads, which leads to frequent failures and wasting money on fixing. However, buying spare wheels won't be a significant problem for big companies, but there is another issue of huge importance – inevitable floor damage. Small areas of contact of the chair wheels with your floor covering lead to impressive pressure. It will cause the rapid destruction of the laminate. Regardless of the hardness of the coating used, any floor under such a chair might be damaged by wheels after 3-4 months of use.
There are effective ways to prevent such a terrible outcome. Scratching the floor might be avoided if a person follows the tips below. They include smart solutions, which seem useful for different kinds of floors.
How to Keep a Rolling Chair from Scratching the Floor?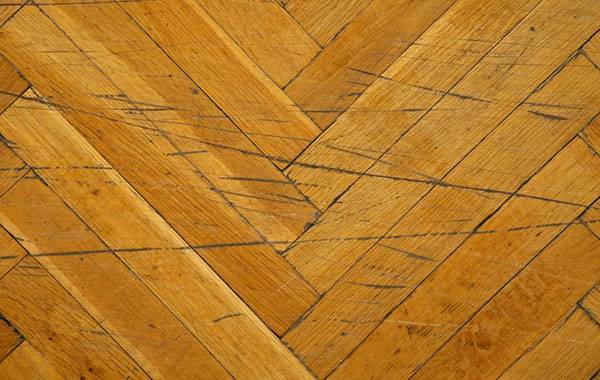 In this section, the reader can choose any solution, taking into account their budget and office conditions. All recommendations have specific advantages and will significantly increase the floor life.
Area rugs can be defined as an effective and practical way to save your floor from rubbing and scratching. They stop furniture from direct contact with your flooring. The price isn't high, so such an option will meet the requirements of small companies even. Moreover, area rugs fit the office interior and wouldn't distract employees from daily tasks. Safeguarding floors will be guaranteed, as there are no consequences of such continual movement.
As a great alternative to mats for chairs, people take into consideration hardwood casters. They are usually used for a quite smooth movement of furniture. This feature helps to prevent scratching and chipping. When sitting in your chair, casters will fix your weight, conveying it to the flooring. You shouldn't worry about quick moves and completing the work, discussing it with colleagues.
Soft polyurethane wheels seem interesting to customers. They are ergonomic on uneven and rough floors – it's vital for minimizing shock loads and vibrations. With such good wheels, all chairs are provided with amazing traction and quiet movement. Office furniture doesn't slip on turns and doesn't get critical damage when hitting sharp objects. It's an efficient way to prevent scratches.
When to Upgrade Your Office Chair Wheels
Over time, any office furniture needs upgrading. It's very useful to improve your work conditions to get extra motivation for solving the set tasks. Let's look at a few cases when chair wheels are in need of an upgrade.
Plush and thick carpeting. Small offices often install such flooring. It may be hard for people in chairs to move around rooms, so there's a reasonable decision to switch to some hard floors.

Hard flooring. It can be immediately damaged if employees get chairs with plastic wheels. Mats won't be an appropriate option either, as they even worse the situation.

Commercial carpeting. It might be quite useful if we speak about protection, but it wouldn't bring much comfort. Pay attention that rubber wheels glide with ease but make much noise, which is distracting.

Such upgrading might seem cheap and effective – you only need to decide on the right option.
Best Solution: Quick, Easy, and Inexpensive Wheel Upgrades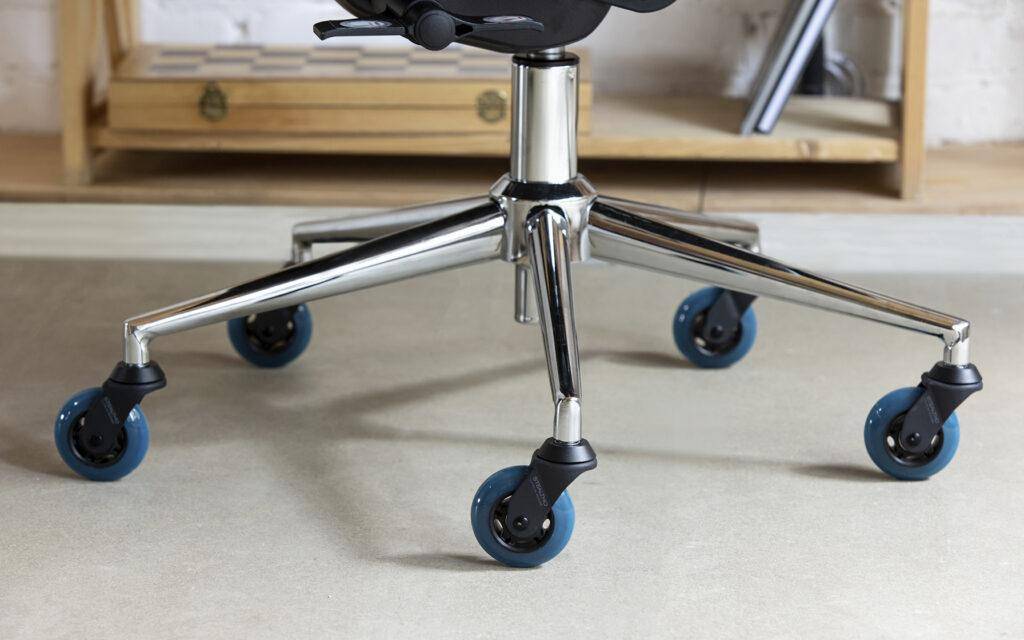 Deciding on further upgrading the office furniture, pay attention to polyurethane wheels. Customers consider them safe for different types of floors, including:
Linoleum

Hardwood floor

Tile

Laminate

Parquet

Carpet

Tile
Elasticity makes the chair wheels glide without damage and any scratches. People can forget about axial run-out due to the smart stem design plus some ABEC9 bearings. Chair mats aren't required anymore – soft polyurethane allows furniture to move safely and quite fast. Such issues as falling out of balls, vertical pin fracture, or even body failure won't occur during your chair operation, as the manufacturer has taken care of these problems.
The STEALTHO company appeared on the market more than five years ago. It immediately realized the current problems connected to awful damaging floors and took quick actions to change this issue. Using polycarbonate for the products, STEALTHO tries to reduce the amount of used plastic in the world. The mission of our company is the following – to decrease the frequency of air emissions and to eliminate the cases of amassed waste.
The first STEALTHO campaign was a great success – the company got more than 100,000$ on Kickstarter. It offered customers a change for plastic mats – special wheels that help to avoid cracks, dirt, bacteria, scratches, and any other interior issues. The sales of the new products started in 2018. This event gained much attention from customers. Millions of people got soft wheels and started enjoying smooth movement around their offices.
At any work, you should feel confident and don't think about the floor condition. Our patented replacement chair wheels will cope with this task. They move easily and don't make any noise. Chairs roll over cables and wires freely – you don't need to waste time checking what's lying under your feet. Moreover, even hardwood flooring keeps the quality, and it doesn't become scuffed. Soft wheels guarantee no worries while moving around the room, discussing new goals, and gaining results.
Are Chair Mat Alternatives Cost-Effective?
The customer is able to rely on soft wheels for saving their office floor. The question is: "Is it really significant to change rugs for polyurethane wheels if we speak about the price matter?". Mat alternatives aren't costly and can be bought by small companies. Looking through the Amazon pages, users can observe an average cost of mats for chairs, which varies from 40$ to 200$. Their price isn't high, but funds matter if you need to replace rugs constantly. Extra expenses don't bring with them a higher quality or a longer service life. There is no need to overpay and change worn-out pieces of carpets every month. Besides, a wrong chosen rug may spoil your flooring worse and faster.
Speaking about soft chair wheels, the price is the same – it reaches up to 50$. On our site, customers can buy the product with a discount, so they will be able to save a little bit. Polyurethane wheels are advantageous in the way of planning your budget. They guarantee reliable service and are ready to face the heaviest loads. This product fits any furniture, so the customer shouldn't be worried about failures or cracks. Soft wheels will fit any type of flooring, which we wouldn't say about rugs. There is an extra assurance of your right choice plus the prevention of wasting money.
Seeing a small difference in prices, we wouldn't consider buying more expensive items wise. Chair wheels won't reflect on your interior – they have even more pros. They fit huge and tiny offices and are able to protect the floor from any harm. No matter how much money you get – it's better to save or invest funds in your company's improvement.
Here's Why Your Chair Mat Could Be Causing Problems
Frankly speaking, we've found a couple of cheap mats available on Amazon. They are affordable and won't lead to a lot of expenses. What is the issue here? Yeah, it's the quality. Budget chair mats aren't characterized by long service and don't have positive reviews. They cause many problems, breaking work processes and decreasing employees' productivity. No reason for saving funds if you lose your profit. Besides, there are other problems caused by using mats for chairs.
The Main Problems of Using Chair Mats
After buying a new mat for your chair, you'll find out a number of unpleasant issues. You didn't think about the consequences of laying a rug on the floor. Let's look at the main problems which you might face:
High humidity. It creates ideal conditions for the quick reproduction of various bacteria, fungi, and mold. The microorganisms emit into the air a huge number of spores that may enter the human respiratory system. High humidity leads to your parquet deformation, and it especially occurs under mats.

Floor damage. Debris, dust, and rocks easily get underneath your mat. If a person steps on it, the floor has more pressure, which causes cracks and scratches. Your flooring service life becomes shorter.

Wrong choice of mat materials. Plastic rugs break in a minute – their separate parts become dangerous for feet. Stepping on sharp plastic objects, you can cut yourself and get an infection.

Note that the sizes of mats are limited. Providing any office with these things, you would have to buy a huge amount of such items. It doesn't guarantee that all the surfaces will be fully covered with rugs. Office workers are always on the move – they speak with colleagues, discuss their tasks, and plan future actions. Mats aren't appropriate for constant movements – they are usually used in quieter places. Under the pressure of huge weight, chair mats won't be able to protect your floors. They will have even worse conditions, which leads to terrible scratching.
Conclusions: the Best Alternative to a Chair Mat Is Replaceable Soft Wheels
Working in an office is considered an essential part of every company. It must be controlled and upgraded timely. Employees should focus on the set goals and complete them on time. It influences the profit and income significantly. Soft wheels help to avoid distraction and save the floor from damage. There is no constant need to check the condition of flooring as polyurethane items aren't harmful and sharp. They protect the area withstanding any loads. Moreover, the price of soft chair wheels isn't high – the product is affordable for companies of various types and sizes.
If you need to motivate your employees to work harder, you shouldn't purchase mats. They distract people from their tasks and take extra time for replacement and examination. Mats are costly if you want to purchase a product of high quality. Companies have to spend more funds and take care of their conditions regularly. It's not convenient to always think about the future of your mats. You have more important matters. Don't rely on the things that wear out fast – choose an alternative that is checked.