Сontent:
Hardwood floors add a touch of elegance and sophistication to any space. However, they can be susceptible to damage from rolling office chairs. The constant movement and friction between the chair wheels and the floor surface can result in scratches, scuffs, and dents.
Do Rolling Office Chairs Damage Hardwood Floors?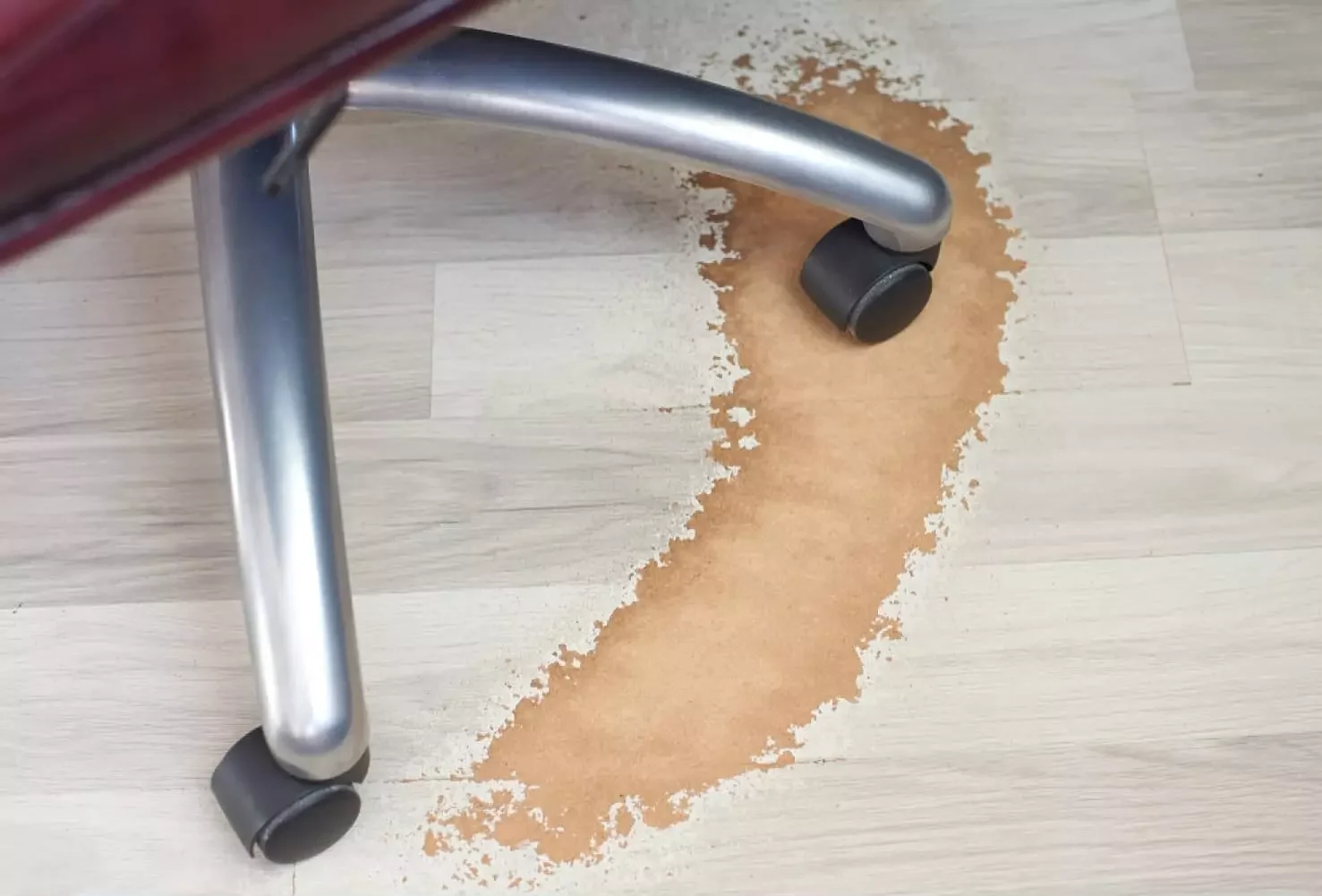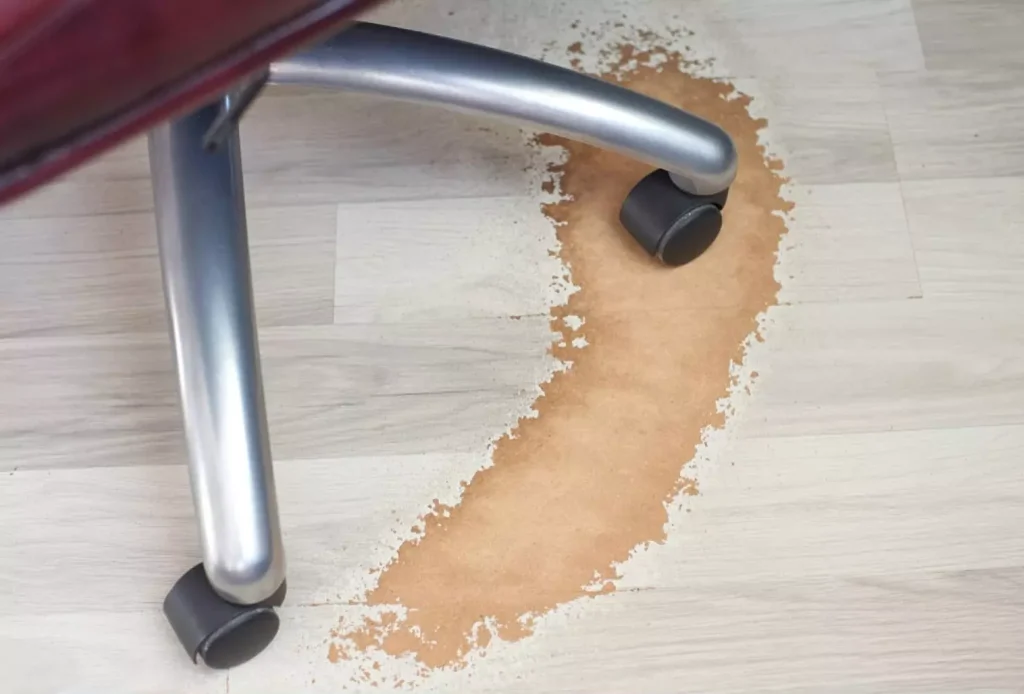 Before delving into the protective measures, it's essential to understand the potential damage. The repetitive motion of the chair wheels can lead to scratches, especially if debris or grit gets trapped in them. The weight of the chair, combined with continuous rolling, can create pressure points that result in dents or indentations on the hardwood floor surface. So, the answer to the question "Will an office chair scratch a wooden floor?" it's "Yes, most likely it will."
Protect Wood Floor From Chair
Office furniture on wheels often scratches the floor. And if you want to know how to protect hardwood floors from rolling chairs, we have some options.
Replace the Wheels With Special Chair Wheels for Hardwood Floors (Best Opinion)
One of the best options for floor safety is replacing the standard wheels with special chair wheels specifically designed for floors. Here's why this approach is highly recommended:
Floor-Friendly Materials: These wheels are usually constructed of soft, non-marking materials like polyurethane or rubber. These materials are gentle on hardwood floors, reducing the possibility of scratches. Polyurethane wheels are used on ordinary office chairs. These specialty wheels are meant to deliver a smooth and silent rolling experience while causing no harm to the floor.

Smooth and quiet rolling: The customized chair wheels' unique shape and manufacturing allow a smooth glide on the wood floor. They are designed to equally distribute weight, decreasing pressure and friction that might degrade the floor surface.

Non-Marking and Non-Slip: These chair wheels are non-marking, so they will not leave unsightly markings or scuffs on your flooring. Furthermore, several of these customized wheels feature non-slip qualities, providing stability and preventing the chair from slipping abruptly. It improves the safety and durability of your wood flooring.

Simple Installation. Most chair wheels are designed to be compatible with conventional office chair models and are simple to install without the use of any special equipment or knowledge. You can learn more about wheel replacement here
Long-Term Solution: Investing in special chair wheels for wood floors is a long-term solution that offers continuous protection for your flooring. These wheels are built to withstand daily use and are highly durable, making them a reliable choice for preserving the integrity of your floors over time. By replacing the wheels, you create a sustainable solution that prevents potential damage and extends the lifespan of your flooring.
STEALTHO is a company producing special castors for chairs for different types of floors. We provide high-quality chair wheels that are specifically intended to preserve hardwood floors. Learn more about unique office chair wheels here. This way, you will not only protect the flooring but also get maximum comfort in the workplace.
Use a Special Chair Mat
A chair mat is a great solution to protect your flooring from the possible harm caused by rolling chairs. Here are some of the reasons why a chair mat is a good purchase:
Surface Protection: Chair mats offer a smooth and consistent surface for chair movement, eliminating friction and pressure that can cause scratches, scuffs, and dents. The mat uniformly distributes the chair's weight, reducing the effect on the floor.

Material Selection: When selecting a chair mat, look for long-lasting, clear materials that will not discolor or harm the wood surface.

Chair mats are available in various sizes and forms to fit workplace configurations. Measure the dimensions of your workstation and select a mat that covers both the chair and the desk area. To adequately protect the floor surface, ensure the mat extends beyond the range of motion of the chair.

Cleaning: Chair mats are simple to clean and maintain. Regular cleaning removes any debris or dust that may have accumulated on the mat, keeping it from scratching or otherwise harming the hardwood floor.
Based on these parameters when choosing, you will be able to choose the right mat for your home or office.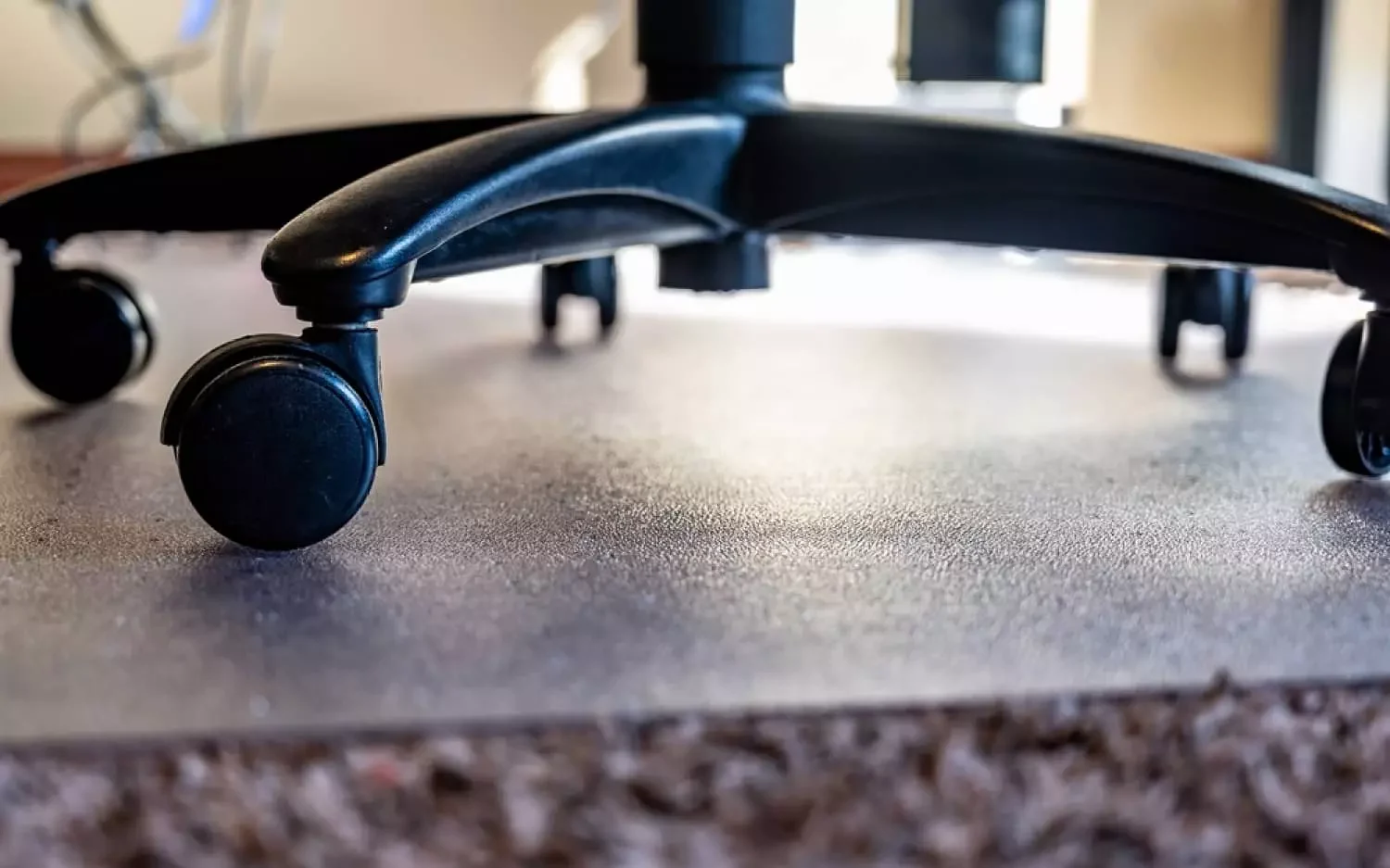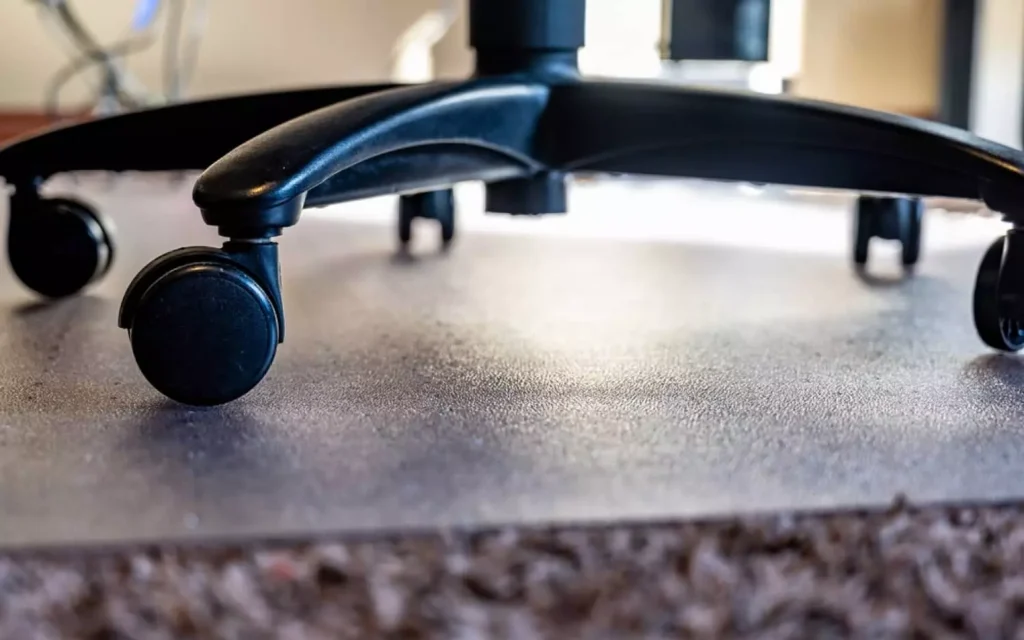 Work the Hardwood Floor With Polyurethane Wood Finish
Applying a polyurethane wood finish to your hardwood floor adds an extra layer of protection against chair-wheel damage. This finish creates a strong protective barrier to prevent scratches. Before applying the finish, ensure the floor is clean.
Don't Get Into the Habit of Carelessly Moving Your Office Chair Across the Floor
Let's adopt responsible chair usage habits. Avoid forcefully pushing or sliding the chair across the floor. Instead, lift the chair slightly while repositioning it to prevent scratches caused by dragging. Being mindful of your movements can significantly minimize the risk of damaging the floor.
Lay a High Pile of Rug
One effective way to protect wood floors from rolling chairs is by placing a high-pile rug under your workspace. A high-pile rug is a carpet with long, fluffy fibers. Here's why this method works:
Cushioning and Impact Absorption: A high-pile rug's soft and thick fibers cushion, absorbing the impact when you roll your chair. It helps to minimize the pressure exerted on the hardwood floor, reducing the risk of dents and scratches.

Barrier against Debris: Rolling chairs can inadvertently pick up dirt, dust, and small particles on their wheels. These particles can grind against the hardwood floor without a protective layer, causing scratches and abrasions. Placing a high pile rug creates a barrier that traps the debris and prevents it from reaching the floor surface.

Enhanced Aesthetic Appeal: High-pile rugs offer protection and enhance your workspace's visual appeal. They come in various colors, patterns, and textures, allowing you to choose one that complements your decor and personal style.
Remember, while a high-pile rug provides additional protection, it's still advisable to exercise caution when moving the chair.
Conclusions
With the right precautions, you can save the beauty and integrity of your wooden floors while enjoying the convenience of a rolling office chair. Whether you use rugs, chair mats, or customized wheels, there are several ways to keep your floors safe.